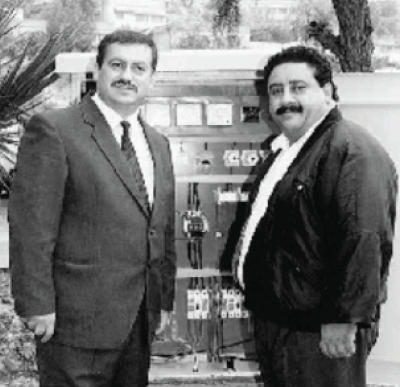 Hiba Engineering Establishment is a family-owned company founded by Engineers Jamal and George Gammoh in 1987.
Our dynamism, pioneering approach to construction as well our commitment to service has always kept us at the forefront of the industry. We are committed to the highest standards of management and technical skills.We also look to fulfill our responsibilities to the communities and environments in which we operate while working in a way that is safe and sustainable. Our strategy enables us to achieve our ambitions for continuing growth.
Hiba Engineering has an excellent record in enhancing its reputation by providing value-added engineering, construction and
service skills to clients for whom infrastructure quality, efficiency and reliability are critical. Our reputation gives our clients, employees, partners, suppliers, investors and the many communities that we serve the confidence to trust us and do business with us.
The strength of the base on which we build our strategy is equally important in determining how successful we are. Our competitive advantage is reflected in our continuous success which is underpinned by the quality and expertise of our staff, our collaborative approach to business and our skill to provide our clients with cost-effective solutions to construction challenges
Vision
We aspire to be a leading general construction organization in the international market by brining growth to the communities we operate in, deliver extraordinary results to our clients, and be committed to our covenants.
Mission
We are a prominent diversified construction company, pursuing satisfaction of our clientsby delivering the highest standards of quality and professional services. Our ambition is to sustain reliable, trustworthy and long-term partnership with communities we operate in, clients, and all stakeholders. We tackle each challenge with safe, reliable and innovative solutions. Our covenants are our prime directives.
Goal
We aim to leverage our presence in new markets at the local, regional and the international level. Maintain and develop long-term relationships with key clients and earn fair return on the value we deliver
Covenants
Our covenants are guided by our values. We value:
Integrity We treat people with dignity, honesty and respect, while embracing diversity, equal opportunities, cooperation, and open dialogue.
Safety and Health we do not gamble with the safety of our people. Our priority is keeping them safe and healthy.
Ethics we promise to keep our word maintain transparency and build trustworthy relationships with our clients.
Excellence we strive to deliver unexpected quality of work and we constantly look for creative solutions. We work with the highest levels of professionalism.
Quality Our passionate is to always do the right when no one is looking.
Sustainability we are loyal to our communities by beingresponsible and positive.
Safety Management
We value the health and safety of each employee as we will never be satisfied until each project is free of accidents and injuries. Target Zero is a program that reflects Hiba Engineering's commitment to the overall safety of each employee. We are dedicated to preventing accidents by averting, eliminating or mitigating unsafe acts and conditions, and by responding properly to natural disasters and emergency situations. Rather than just reacting to incidents and correcting contributing factors, our objective is to be proactive and prevent accidents from occurring. Aggressive safety management techniques, such as rising the awareness of our employees to a mature health and safety level , improved hazard recognition, hazard correction, and employee involvement, have ruled our commitment to help reducing occupational injuries and illnesses as well as the probability of negative safety impacts.
Quality
Our commitment to quality is our tradition of excellence. Our Quality Management System is a proactive and constantly assessed, monitored, and reassessed. Our approach designates best practices that ensure delivering the highest quality to each and every client. Preserving our level of quality is stemmed from enhancing teamwork values of our people, developing our processes and reinforcing performance management system.